New Computers
New Desktops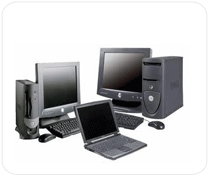 SoftQue uses only the best quality, non-proprietary components that have a proven track record of reliability. All of our new computers come with a 1 year warranty and are built to your specifications. Extended warranties are also available.
Gamers
We have built hundreds of high-performance gaming systems! We know computer gaming and can build a system to your exact specifications!
New Laptops
As an authorized Lenovo ThinkPad dealer and Dell Resaler, we sell the highest quality New Corporate quality laptops.
Remanufactured Computers & Laptops
High Quality
We specialize in high quality towers and laptops that are built to last. For over 2 decades we have supplied dozens of local businesses and individuals with high quality systems to meet their specific needs. We remanufacture "Corporate Quality" laptops with real steel hinges, metal chassis, and a track record of longevity and reliability.
Economy
At SoftQue, we offer a variety of low-cost solutions to your computing needs. We accept and remanufacture trade-in towers and laptops in every price range.
We are experienced with all Windows® operating systems and offer Linux systems too!