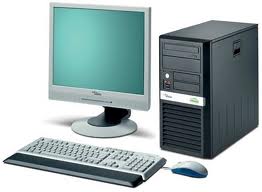 Looking for Computer Parts in Mesa, Az?
We carry a full line of computer parts and accessories at competitive prices.  We stock mice and keyboards, flash drives and external hard drives.  At SoftQue you will find laptop coolers, cases, wireless routers and receivers.  We have speakers, cases, power supplies, hard drives and memory.  Canned air, USB hubs, and special hard to find items.  Check out our Discount Cables and much more!
External "Backup" Drives
Want an external drive that you can leave running and will actually last and not burn up?  We have excellent success with our custom built backup drives.  They run cooler, contain higher quality drives, and are more reliable than the name brand drives off the shelf.  Let us build you one today!
Custom Built Computers
Looking for parts to build your own?  Come on in!  But if you don't build computers on a regular basis, you might be better off letting SoftQue put one together for you.
Here in Mesa Arizona, you won't find better custom-built computers than at SoftQue Computer. We work with you through planning up until we deliver your new PC. We also guarantee our work 100%.
At SoftQue, we are all about quality components and customer service.  If you are considering a new computer or just need parts to fix your old coputer, be sure to call us at 480-832-4600.  Call today!